Join us for our Tournament Team Fundraiser with the Canton Charge!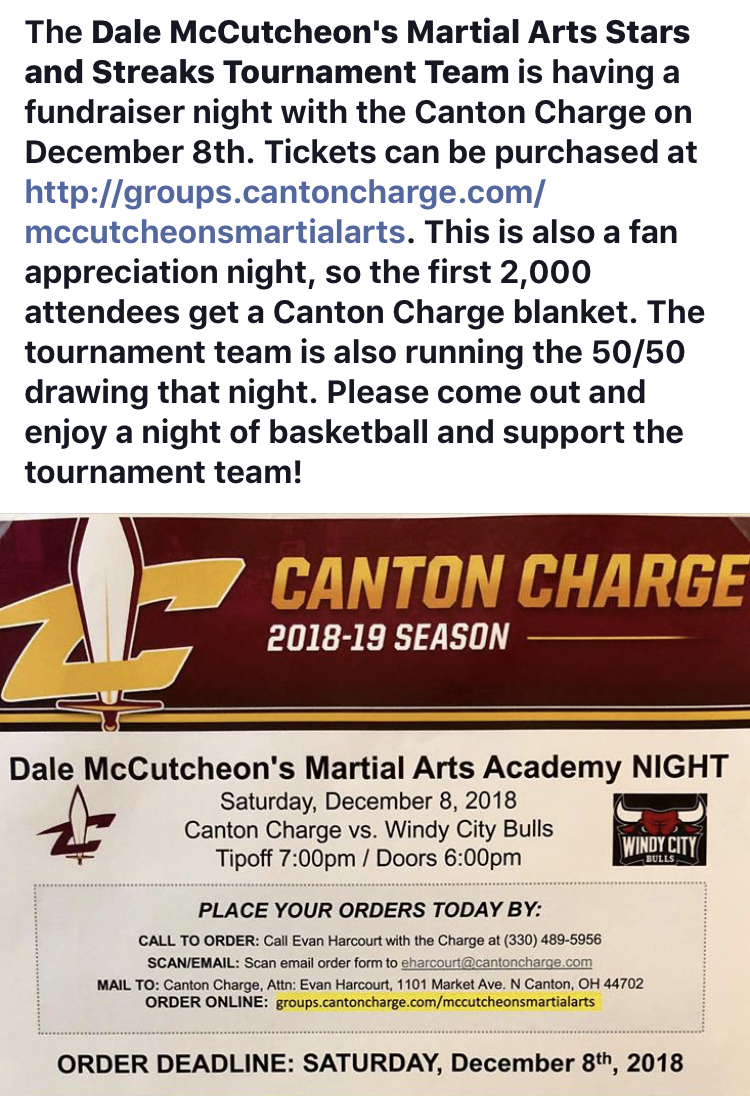 Stars and Streaks Tournament Team News
The team celebrated multiple awards for top ten placements in the 2017-2018 PKC Nationals season, including 4 National Champsionship Titles. The following team members were recognized.
Kata – 7th Place Mr. Flask, 9th Place Jason Cain, 2nd Place Nick Morris, 3rd Place Joe Cironi, 4th Place Tori Cironi, 5th Place Emma Quillen, 4th Place Easton Beard
Weapons – 9th Place Mr. Flask, 5th Place Nick Morris, 7th place Tori Cironi and 9th Place Ryan Brandvold
Sparring – 8th Place Elijah Scarpino, 2nd Place Jason Cain,, 4th Place Joe Cironi, 2nd Place Jakeb Beard, 7th Place Tori Cironi, 6th Place Ryan Brandvold, 7th Place Isaiah Quillen and our National Champions Nick Morris, Emma Quillen and Easton Beard
Chanbara – 8th Place Jason Cain, 10th Place Nick Morris, 8th Place Tori Cironi, 5th Place Jakeb Beard, 10th Place Emma Quillen, 7th Place Brody Sherrard, 10th Place Isaiah Quillen and National Chamion Easton Beard
The team finished 18th this year out of 72 schools nationally. The team looks forward to announcing PKC Region 3 State Title awards very soon.
If you are interested in joining the tournament team, please contact Mr. Dale McCutcheon, Mr. Joe Flask, or Mr. Brian Cironi.
Team Booster questions can be directed to Team Booster President, Amy Morris, Tournament Team Points Coordinator, Melissa Beard, or Team Booster Secretary, Heather Quillen.